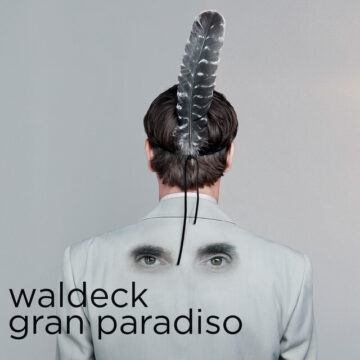 Gran Paradiso
2016 CD, LP
It has been quite some time that Viennese downbeat and swing icon Klaus Waldeck – reknown for his landmark "Ballroom Stories" (2007) – has put us on hold. Now the waiting game is over:
Waldecks new full length album "Gran Paradiso" will be released this summer on Vienna based Dope Noir Records.

The anticipation is high and Waldeck raises the stakes by adding one more surprise: Italian is the language that Waldeck has chosen for our delight. He has found us a new sparkling and sensual voice, the Viennese Singer "la Heidi". Waldeck himself likes to label Gran Paradiso as a "Spaghetti & Western" production:
"Gran Paradiso is a hommage to the legendary Sound of Italo-Western Movies shot in the famous Cinecittà, – it also dwells on those sentimental moods of the famous italian canzone reflecting the time when the style of post-war italy became fashionable all over the world - but always keeps the ironic distance."

"Italian... this language is pure music. 100%"

"cinemascope – technicolor - nostalgia at its best. La Dolce Vita & The Godfather mingle in sweet harmony!"

The overall sound of the album clearly is earmarked by Waldecks unique signature sound. The odd tango, dub und reggae elements round off this light hearted summer album, that you may want to listen to even in autumns or winter to warm up your spirit.
Italian music, like not so often heard before!
Mille grazie Mr. Waldeck!